Matrox Graphics
Imaging and Video Hardware and Software Solutions
Milwaukie Matrox is a leading manufacturer of graphics solutions for professional markets. In-house design expertise, top-to-bottom manufacturing, and dedicated customer support make Matrox Graphics' solutions the premier choice in industries that require stable, high-reliability products.
---
Maevex Series
Any video, anytime, anywhere
Matrox Maevex™ Series encoders & decoders stream and record multiple Full HD and/or 4K channels of video and audio over standard LAN connections at user-defined bitrates. Matrox PowerStream Plus™ software is included, offering easy remote management at no extra cost, while the full Maevex API—with access to the complete feature set—is available upon request for integrators and developers looking to create their own control application or to include Maevex functionality into existing control applications. The Matrox Maevex family of products future-proofs your installations and offers the options you need.
The Matrox® Maevex 6150 quad 4K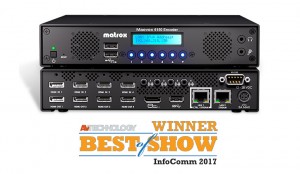 The Matrox® Maevex 6150 quad 4K encoder appliance is the first in the world to deliver quad 4K input capture and encode, supporting at least four concurrent 4K streams and recordings—simultaneously. Delivering the full feature set of the Maevex 6100 quad encoder card, the Maevex 6150 comes in a convenient, rack-ready form factor with added I/O.
Coupled with Maevex PowerStream Plus software, the Maevex 6150 quad 4K enterprise encoder appliance delivers reliable industry-leading technology for flexible management of local or remote data, ensuring complete reach and control over the entire network.
Email GDI to learn more | Download Datasheet
New! Maevex 6120 dual 4K enterprise encoder
Maevex 6120 appliance provides simultaneous dual 4K input capture, stream, and record, with options to stream and record even more channels in different configurations.
Packaged in a convenient, rack-ready, plug-and-play form factor, Maevex 6120 leverages the same industry-leading core technology as the multi-award-winning Maevex 6100 Series quad 4K enterprise encoders, but on a dual 4K option that allows for a more precise fit for dual-input capture and encode applications.  Email GDI to learn more | Download Datasheet
The Matrox® Maevex 6100 Quad 4K Enterprise Encoder Card
Today's communications are being re-shaped by the rapid adoption of networked technologies. Traditional AV content distribution, once available only via baseband signaling, now leverages ever-expanding IP networks to push and pull content, making it easier than ever to meet the growing demand for increased capacity and any-to-any connectivity.
The Matrox Maevex 6100 quad encoder card delivers industry-leading 4K/UHD and Full HD multi-channel capture, encode, and stream AV-over-IP. Built on H.264, the world's most common codec, this plug-and-play solution fits seamlessly into existing infrastructures and interoperates with any device on the network, ensuring high-density content distribution and system scalability.
Included Matrox PowerStream Plus software provides complete reach and control of all streams and applications through a simple-to-use interface. The PowerStream Plus API—available upon request—offers integrators and developers command-level access to include Maevex functionality in new or existing applications. The complete range of Maevex-associated software development tools and comprehensive libraries allow OEMS, integrators, and developers to deploy intuitive, ready-to-use software or build custom interfaces and applications based on project needs.
Email GDI to learn more | Download Datasheet
TESTIMONIALS
"Ultimately, taking all factors into consideration, especially the back-end flexibility of Maevex, it was an easy choice, and even easier to integrate the solution into the Bell Centre's AV-over-IP multicast Avaya network infrastructure." — Pierre-Eric Belzile, Club de hockey Canadien, Inc.

"We feel very strongly that the solutions Matrox produces cannot be compared to home office or consumer products and meet a high grade of industrial standard. Matrox products are built to last; it was a no-brainer for us to select Matrox. It's a fantastic solution that we foresee using again in the future."— Jonas Michael, Clear Channel Norway
---
Matrox Mura IPX Series
Any Source. Any Destination.

Matrox Mura™ IPX Series capture, encode, decode, and display cards provide OEMs and system builders with best-of-breed hardware and software to enhance their video wall controllers, multiviewers, operator workstations, and personal video walls with advanced video processing and networking capabilities. Featuring unprecedented, high-density Full HD, 4K and 8K support, the world-class Mura IPX video wall portfolio is ideal for control rooms, digital signage, AV presentation, security and more.
Key Features
DirectShow® Support to incorporate existing applications into Mura IPX-based systems
Multi-channel 4K/HD encode and decode over standard IP
High-density IP decode & display on 4K multiviewers
HDMI or DisplayPort capture, IP encode & decode support on a single card
Flexible stream and record capabilities anywhere on the network
Separate on-board network interface controller for zero impact on system
RGB 8:8:8, 10:10:10 and YUV 4:4:4, 4:2:2, 4:2:0 color space support
Email GDI to learn more | Download Datasheet
---
C-Series
Performance Meets Flexibility

Matrox C-Series multi-display video cards, featuring four, six, and nine-output models, allow you to drive multiple displays or projectors from a single graphics board. Designed and built to ensure excellent reliability, stability and ease of deployment, C-Series PCI Express® x16 boards are ideal for demanding commercial and critical systems. They deliver advanced multi-monitor capabilities and outstanding performance for a wide range of applications including enterprise, industrial, pro A/V, digital signage, security, control rooms and more.
Key Features
 Drives multiple displays or projectors with a single PCI Express x16 graphics card.
 Compatible with DisplayPort™, DVI, and HDMI® displays (adapters may be required)
 Pristine image quality for high resolution monitors, including 4K and UHD
 Low profile and full height form factors
 DirectX® 12 and OpenGL® 4.4 compatible AMD™ GPU
 Supports Matrox PowerDesk™ for Windows®
Email GDI to learn more | Download datasheet

---
Avio Series
Dual-DVI Fiber Optic KVM Extender Delivers Uncompromised Performance
Matrox Avio F120 and F125 KVM extenders consist of a transmitter and receiver pair. The Avio transmitter unit captures I/O functionality of the host computer and sends it uncompressed over a single duplex LC-LC fiber optic cable to the Avio receiver unit, letting you separate the computer from the user environment and place it in a climate controlled machine room. Matrox Avio is the ideal KVM extension solution for design, 3D visualization, process control, broadcast, post-production, industrial and military applications where system performance and security are key requirements. Its high bandwidth transmission maintains system performance and does not introduce any latency or dropped frames. Matrox Avio is the solution designed to minimize total ownership cost and maximize performance.
Email GDI to learn more| Download Datasheet
---
Extio Series
Control your work space
Matrox® Extio 3 is the world's first IP KVM extender capable of supporting 4Kp60 4:4:4 video, keyboard, mouse, USB 2.0, and audio at unprecedented low-bitrates over a standard Gigabit Ethernet network. With exceptional remote performance, smooth video playback, and pristine image quality, Extio 3 supports DisplayPort 1.2 connectivity with a maximum resolution of 3840×2160 @60Hz in true color. Designed to ease integration and provide operational flexibility for information sharing, fast decision making, and intuitive collaboration, Matrox Extio 3 is ideal for a wide range of environments such as process control rooms and dispatch, as well as network operation centers in healthcare, military, transportation, government, broadcasting, and industrial automation and control. Email GDI to learn more | Download Datasheet
Multi-Display Software
Manage your Multi-Display Desktop.
Multiple monitor setups are gaining popularity for general computing, but are often a key requirement for high-end corporate or industrial systems, such as those used for financial or control room applications. Matrox display drivers include Matrox PowerDesk multi-display software that allows you to change display settings specific to Matrox graphics hardware. In addition, you can download the free Matrox PowerSpace software to manage multiple virtual desktops.
 Matrox PowerDesk* and Remote PowerDesk
Easy-to-use software provides comprehensive multiple monitor controls for configuring and managing program windows. The Matrox PowerDesk available with Matrox M-Series graphics cards offers new and enhanced capabilities for the ultimate multi-display experience.
Matrox PowerSpace* and Remote PowerSpace – Customize your Windows desktop workspace and alleviates the need to minimize and maximize windows when working with multiple applications simultaneously.
Email GDI to learn more | Watch Video |Download Datasheet
---
KVM Extenders
Control from a distance
Separate I/O devices from the computer and drive displays from a distance.
Matrox KVM Extenders separate standard peripherals such as keyboard, video and mouse from the computer by up to 4KM (13123 feet) with fiber-optic cabling. This extension technology offers a variety of connectivity options and supports dual, quad, and more, multi-monitor configurations.
Email GDI to learn more | Download Datasheet
---
Graphics eXpansion Modules
See more. Do more. Be more productive.
Matrox DualHead2Go and TripleHead2Go external multi-display adapters let you add two or three monitors to your laptop or desktop computer. They connect to the video output of your system and use its existing GPU to provide high quality, uncompressed graphics and video across all monitors. These little black or silver boxes are perfect for bringing multi-monitor functionality to computers with only one monitor, such as systems with integrated graphics or no available expansion slots—or closed systems that have already been validated.
Connects two or three monitors to your system, and lets you see more, do more.
Supports VGA, DVI or DisplayPort™ monitors or projectors running standard or widescreen resolutions
Work with laptops and desktop computers, PC or Mac
Email GDI to learn more | Download Datasheet | Download Product Lineup
Graphics Cards
Multi-Display Solutions – Dual, Quad and Beyond
Dual, quad, and beyond—we work hard to find the optimal combination of fanless design, low power consumption, and best-of-breed 2D image quality to ensure high MTBF and long product life cycles. In addition, our unified display driver architecture ensures one driver package can be used to manage all Matrox cards for easy corporate deployment.
Email GDI to learn more | Download Datasheet
M-Series
Drive Multi-Monitor Applications with Extraordinary Performance
The Matrox M-Series multi-display graphics cards render pristine images across up to eight high-resolution monitors at resolutions up to 2560 x 1600 for an exceptional multi-monitor user experience. With up to 2 GB of memory and advanced desktop management features such as stretched and independent desktop modes, M-Series drives business, industrial, and government applications with extraordinary performance. M-Series graphics cards are easy to integrate into a wide variety of systems. Save valuable slot space and benefit from the ability to add multiple M-Series cards to achieve support for up to 16 displays from a single computer
Email GDI to learn more | Download Datasheet
P-Series
Available in several form factors. Easy to deploy.
The Matrox P-Series offer reliable, ultra-low power dual and quad multi-monitor graphics solutions with wide enterprise flexibility.
Email GDI to learn more | Download Datasheet
G-Series
See more. Do more.
The Matrox G-Series are cost-effective and highly flexible DualHead graphics cards available in a variety of form factors, bus types and supports digital or analog monitors. This productivity-enhancing graphics card series is ideal for a variety of 2D professional applications.