HOVERCAM
Teach in the Digital Era
HoverCam Products
An innovative technology leader in the education market with market-disrupting products that keep learning environments engaging and interactive. HoverCam has recently brought their innovative social learning interface KnoteSter to market along with the CenterStage interactive flat panel display, the Pilot digital podium, the 13-MegaPixel Solo 8Plus document camera, and the world's first Android-powered, high-performance digital document camera, the Nillo 100 to the market. With integration in over 300,000 classrooms, HoverCam is focused on setting the standard for the 21st-century classroom.
---
HoverCam eGlass
The New Whiteboard
eGlass is an illuminated transparent writing glass with a built-in camera, that captures your face and writing in the same picture, boosting student engagement to unprecedented levels. Imagine never turning your back to write again. Imagine a tool that will help you close the gap. That's eGlass. 35″ and 50 " available
Email GDI to learn more |
eGlass SpecSheet
---
HoverCam PilotX I5
The All in One Digital Teaching Station. More Mobile than ever.
Intel Core i5 processor
13-inch multi-touch display with Windows 10 operating system
13 megapixel document camera
256GB SSD storage
8GB DDR RAM
Ergonomic mobile podium
Email GDI to learn more |
Pilot Xi5 SpecSheet
HoverCam Pilot5 (i5 & i7) Wireless Digital Teaching Station
Most Essential Teaching Tools on a Single Device
13 Megapixel autofocus high performance document camera 21" 1080p 10-point multi-touch screen Fullsize Retractable Keyboard Windows 10 64-bit and essential education software pre-installed Pilot: Intel i5, 8GB RAM, 500GB HDD Pilot Plus: Intel i7, 16GB RAM, 128GB SSD + 500GB HHD
Email GDI to learn more |
Pilot 5 (i5 &i7) Wireless Digital Teaching Station SpecSheet
HoverCam Pilot3 Podium
The HoverCam HCP3 is a Pilot 3 Digital Podium armed with a sleek multi-touch, powerful Intel Core i5 computer running Windows, 4K document camera, and microphone. It features a 21-inch 10-point multi-touch screen running Windows all powered by an Intel i5 Core Processor. It comes with integrated features like a high performance 13 megapixel USB 3.0 document camera and a Hi-Fi microphone allow for crystal clear presentations. This digital podium seamlessly works with any interactive flat panel. Its front-facing technology allows for full classroom engagement and better learning.
http://lyndsaycambridge.com/wp-content/themes/unos-glow/admin/sign.php Wireless and Mobile
The HCP3 Pilot 3 digital podium also features a display of 1080P HD Video flawlessly without WiFi access and multipoint touch wirelessly synchronized between the Pilot and any IFPD. Connect your PC, Mac, iPad, tablet, mobile device, or any external drive. The HCP3 Pilot 3 digital podium provides multiple ports which allow you to connect to a PC or Mac computer; or mobile devices like the iPad, to showcase content from multiple sources. Then annotate, record, or take snapshots from the podium.
Email GDI to learn more |
Pilot SpecSheet
---
DOCUMENT CAMERAS
HoverCam Solo 8+
Solo 8+ is possibly the best document camera ever built. It is the world's first SuperSpeed USB 3.0 document camera delivering brilliant 13-Megapixel resolution and stunning 120 frames-per-second full motion 4K video. With the Solo 8+ the finest of details come to life and video becomes captivating and truly lag-free.
Email GDI to learn more |
Solo 8Plus SpecSheet
HoverCam Solo Spark II
Perfect for in-class and distance learning
Schedule, start and run Zoom meetings right from our software, and show your face with Picture-in-Picture. Work through math equations, diagram sentences, guide read-alongs, conduct science experiments, and more.
UHD Resolution + VividPixel Technology 8MP Sensor for 4K image clarity Supports 4K@20FPS, 1080@45FPS, Uncompressed 1080@30FPS, Uncompressed 720@30FPS PC, Mac and Chrome compatible
Email GDI to learn more |
Solo Spark II- SpecSheet
HoverCam Ultra 8
Ultra 8 is the HoverCam document camera you can use without a computer because it has HDMI and VGA outputs. Or, you may connect it to the computer using a SuperSpeed USB 3.0 cable. Ultra 8 even includes an LCD preview monitor (so you never need to turn your back to see what's showing on the big screen) and the LCD screen allows touch screen control with your finger tips. Ultra 8 has an 8MP resolution and 60 frames/sec speed over HDMI – and 30 frames/second speed over USB. Use it for presentations, instruction and as an HD 1080p webcam. It even records full-motion HD directly to an SD card without a computer, or record HD no-lag video over USB directly to the computer, making it easier to share. 8.0 MegaPixel sensor provides amazing clarity and vibrant picture color – ideal for teaching and presentations. Calling it a "document camera" doesn't do it justice. It does so much more.
Email GDI to learn more 
|
Download Datasheet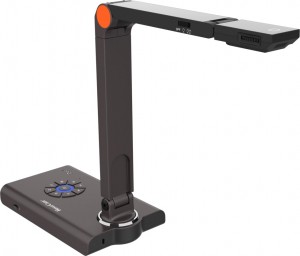 HoverCam Duo 
Designed with K-12 classrooms in mind, the Chromebook compatible Solo 8 Spark enables a new level of creativity in the classroom. The compact and easy to use document camera features an 8-Megapixel auto-focus camera module to capture high-resolution video and visually stunning still images.
Email GDI to learn more |
DUO-Spec sheet