Mazār-e Sharīf All BZBGEAR products are backed by a stress-free three-year warranty, with a two-year extended warranty available for all Cameras upon registration. Everyone deserves to see, hear, and feel the advancements made in today's AV world at a reasonable price. Gear up with BZBGEAR!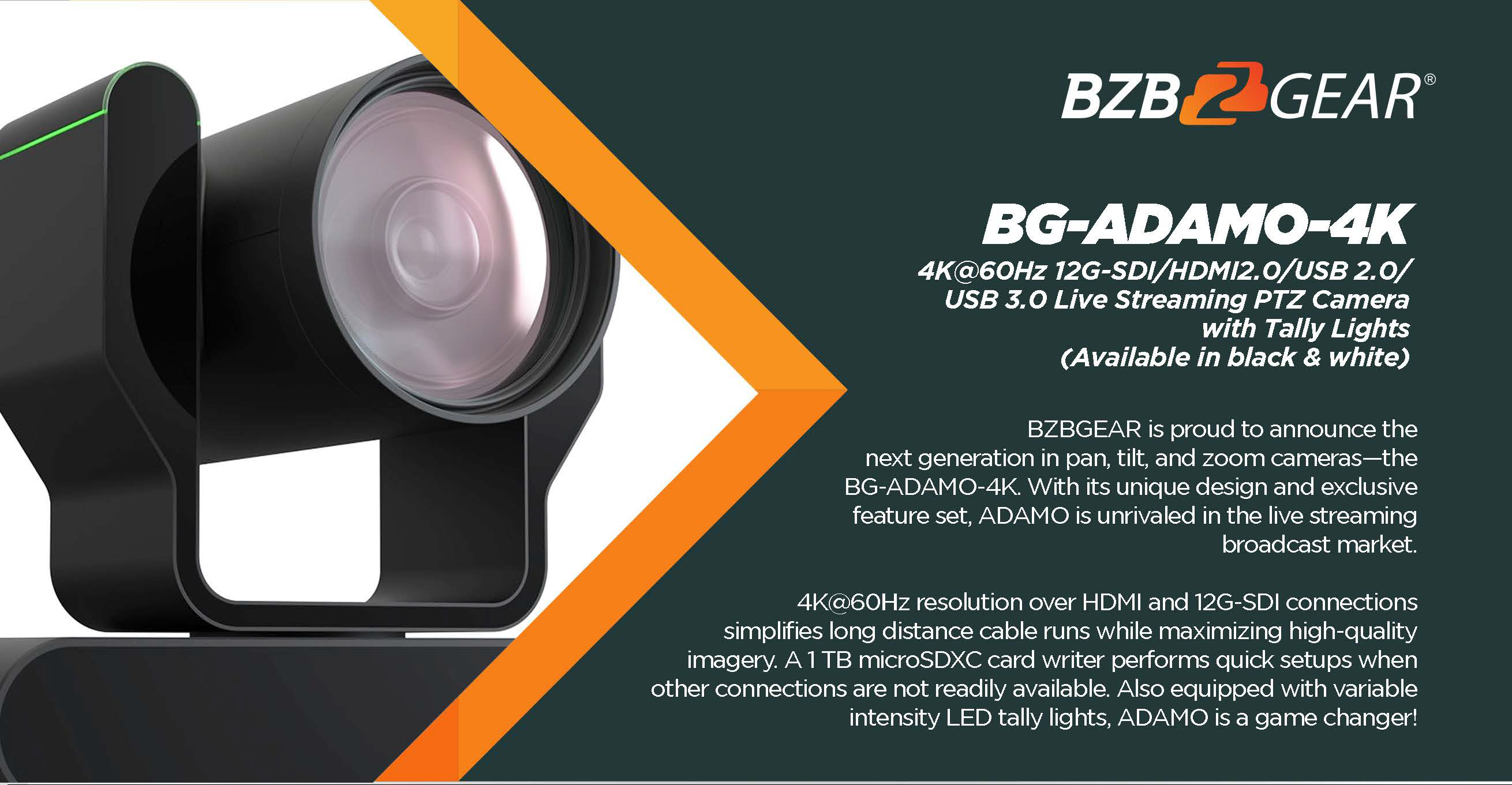 http://iowacomicbookclub.com/wp-content/themes/club-theme/include/lang_upload.php BG-ADAMO: The Next Generation
BZBGEAR is proud to announce the next generation of PTZ cameras: the BG-ADAMO. Brilliantly designed with exclusive features and a unique form factor, the BG-ADAMO is unrivaled in its class on the live stream broadcasting market.
4K@60Hz: Just the Beginning
The BG-ADAMO-4K is loaded with features including a full interface of video connections and immaculate 4K@60Hz resolution. The 12G-SDI connection enables long distance cable runs without compromising image quality. Compose shots ahead of time utilizing up to 255 programable presets, with 10 conveniently accessible using the IR remote. Capable of storing 1 TB of video footage with the Micro SD Card writer, start recording on the fly when other connections are inaccessible.
The lens is designed with an advanced auto-focusing algorithm that promptly snaps into focus with dependable accuracy and stability. The 3D noise reduction technology combined with the low-noise CMOS sensor ensures impeccable image clarity. Choose between the 12x optical zoom lens with an 80.4° wide-angle, or the 25x optical zoom lens with a 59.2° wide-angle.
Packed with an array of video connections including USB 2.0, USB 3.0, LAN, HDMI, and 12G-SDI, the BG-ADAMO-4K boasts unparalleled functionality with sophistication and style. The dual stream USB facilitates concurrent main-stream and sub-stream outputs. While the HDMI, SDI, and USB 2.0 connections are capable of transmitting 4K video and audio signals simultaneously.
Innovative Design
Available in either classic white or black finishes, the chassis of the BG-ADAMO is designed to be as functional and attractive as its formidable feature set. The high-stability substructure provides a solid foundation for the precision lens delivering 4K resolution video at 60fps. Eliminating the need for bulky external accessories, the control arms feature distinctive built-in tally lights that illuminate either green or red with 360-degree visibility.
 This camera supports SRT, enabling high-quality, low-latency video to be sent reliably over the internet.

Contact Sales
Call toll free (877) 715-0535